Rec K 2019 - 2020
Miss Kelly
Welcome to Reception!
Welcome back, we hope you had a lovely break and are ready for another busy half term!
This half term our topic is … Under the Sea! We will be learning lots of interesting facts about different sea creatures, and will also be visiting the Sea Life Centre to see them in real life!
Our role play area has transformed into a Fish and Chip Shop! The children will be serving us some delicious food! This will also link to our maths learning, encouraging children to use language related to money and recognising coins.
In literacy we will begin by reading the story Barry the Fish with Fingers; this will allow us to discuss how we are all unique and the importance of celebrating our differences. We will also look at some non-fiction texts and creating our own fact files and labelling the different parts of sea creatures.
In RE we will be moving onto learning about Stories that Jesus told, including bible stories such as The Wise Man and the Foolish Man and The Good Samaritan. We will be discussing the moral of the stories, and how we can relate them to our everyday lives. Towards the end of the half term, we will be learning all about Easter, discussing how Jesus died on the cross for us. We will be attending church to celebrate the resurrection of Jesus.
This half term as well as money we will be focussing on number recognitiion - to 20!
This half term we will continue to practise our tricky words, these words are 'sight' words as the children must be able to recognise these words due to them not being able to be phonetically read. Our tricky words are: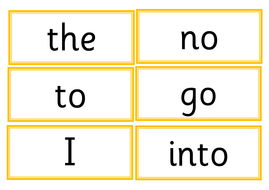 Please continue to read with your children at home, we can really see the impact this is having so thank you very much! Your child will also be bringing a library book home, we visit the library on a weekly basis, to enjoy an additional class story, please ensure the library books is kept in your child's book bag at all times.
We love to listen to and join in with the jolly phonics song - click on the link below!https://www.youtube.com/watch?v=ei0iFs5uF6w
Our Tricky words song: https://www.youtube.com/watch?v=TvMyssfAUx0
This half term, we will be doing gym on a Monday and dance on a Friday, please ensure that your child has a full PE kit in school at all times, a picture of this can be found on the website, please make sure every item is named.
Thank you for your support,
Miss Kelly
Here are some little ideas how you can support your child's learning at home:
Reinforce the sounds covered each day in class.
Practise name writing. Please make sure your child uses lower case letters except for their initial letter.
Share reading books, discussing plots, characters, and their feelings, as well as simply decoding the text.
Draw your child's attention to numbers in their environment e.g. telephones, door numbers, car number plates etc. Count things around the home. How many windows do we have etc?
Encourage your child to dress themselves for school and take their uniform off at the end of the day to promote independence.
Recommended websites:
http://www.mrthorne.com/ - Mr Thorne has a channel on youtube dedicated to the pronunciation of sounds, called Mr Thorne Does Phonics
Similarly, you can also find the Alphablocks channel on Youtube, which will further support your child's phonic and sound knowledge.
http://www.phonicsplay.co.uk - some free phonic based games
http://ictgames.com/literacy.html- more phonics games
https://www.bbc.co.uk/cbeebies/shows/alphablocks - 5 minute videos which reinforce your child's phonic knowledge.
Recommended APPs:
Justin's World - Lettersounds: a super resource for teaching letters and sounds including reading, writing and spelling.
Doodle Buddy: a paint app which helps develop hand-eye coordination.
Bee Bot: an app which helps improve directional language (forwards, backwards, left right etc.)
Files to Download
Rec K: News items
There are no News items to display
Rec K: Events items
There are no Events items to display